Description
Verkline Spherical Adjustable Trailing Arms – Golf MK7 Cupra 5F
On track cars recommended starting position is 0
Anti-squat suspensions are used to reduce body squat by altering the rear suspension so that the forces resulting from accelerating pass through the control arms and suspension linkage rather than through the coilovers or struts.
In MQB, rear suspension we can define our anti-squat by inclination of a line which connects the wheel center and chassis mounting point of the trailing arm. Most of the cars are lowered with aftermarket suspension components. In the picture below the car is lowered and OEM wishbone (and our +0 setup) in MQB car has anti-squat line pointing down (red line), it means that the car has negative anti-squat value. It causes excessive suspension displacement under acceleration and reduces responsiveness.
To correct this we have come up with an adjustable rear trailing arm. When the wishbone in the car is used in +20 setup anti-squat value (green line) is corrected and it is back to factory settings.

If the car wishbone is used in +40 setup anti-squat value (blue line). It makes suspension move even less, thus resulting in faster response of the car from stand still or when exiting the corner. Also when there is less suspension movement camber and toe are less affected (better predictability of the car).
With the increase of anti-squat You also get higher values of rear anti-lift. It keeps Your rear suspension low under braking, which increases grip and car predictability. This allows You to brake later and go into a corner with higher speed and confidence.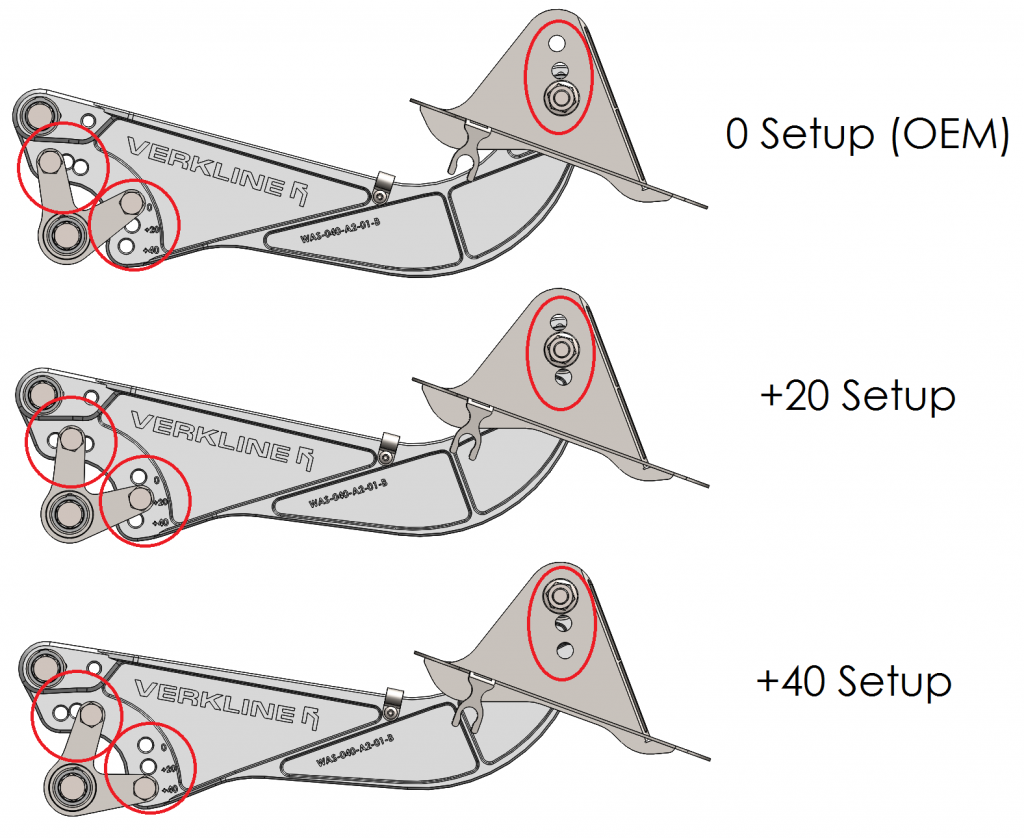 Product functionalities:
– 3 position anti-squat and anti-lift adjustability (0, +20, +40)
– OEM wishbone bends during normal operation and this increases when the car is lowered or camber/toe is increased. Our CNC billet wishbone has spherical bearings to avoid that and it is also big increase of stiffness results in better handling in corner exit and under acceleration.
– High quality, metal spherical bearings instead of rubber bushings, so You will not lose the geometry set when doing alignment.
– Same weight as OEM regarding additional functionality
Features:
– This is a bolt-in kit, no modifications necessary to the car.
– Wishbone comes pre assembled
– CNC machined arm out of 7075 t6 aluminum
– TIG welded high strength steel mountings.
– parking brake line brackets
– Includes all necessary parts to mount on the car.
What is included:
– two aluminium wishbones anodized in black with spherical bearings
– two steel adjustment chassis mounting bracket in black
– two steel adjustment trailing arm steel bearing carrier in black
– bolts
WAS-041 – Install instructions
Used in  cars (type numbers in brackets):
2012 – 2020 Audi A3/S3/RS3 (8V)

2012 –  Audi TT/TTS/TTRS (8S)

2012 – 2020  Volkswagen Golf/GTI/R (Mk7)
2012 – 2020  Seat Leon (5F)

Please contact us to confirm stock level – usually in stock product.